Although there is still a buzz in the crypto sector, the Bitcoin bandwagon is long gone, and now the shift has been turned to convergence applications. Investment in Blockchains 2019 report from Outlier Ventures paints a broader picture of the happenings in the crypto and blockchain space.
In its 2019 report, Investment in Blockchains 2019 has seen a change of focus in investors. While many thought investors still have their minds locked on virtual currencies, well, the tide came and went. Now it seems investors are interested in convergence applications. At the forefront of the change is artificial intelligence AI, which accounts for 33.8% of the market. Data and ownership category closely follow the AI sector.
Series A Fundraising Events Lead In Generating Funds for Stakeholders in the Crypto Space.
Apart from Outlier Ventures report touching on the trends of investors, it also dove into how firms raise funds. At the leading front is Series A fundraising events which help stakeholders raise the much-needed capital compared to seed stages.
Per the report, Series A rounds generate ten times what Stage Rounds give crypto firms. However, the Seed Rounds also do well since they generate 30 times what the firms get from pre-seed fundraising events.
However, all in all, Series A funding rounds constitute of 12.8% of all fundraising events. While all the above points to the blockchain companies having it easy when it comes to capital needed, they find it hard to attract investors for Series B Rounds. The latter, coupled with unfavorable crypto regulations culminate to some closing down.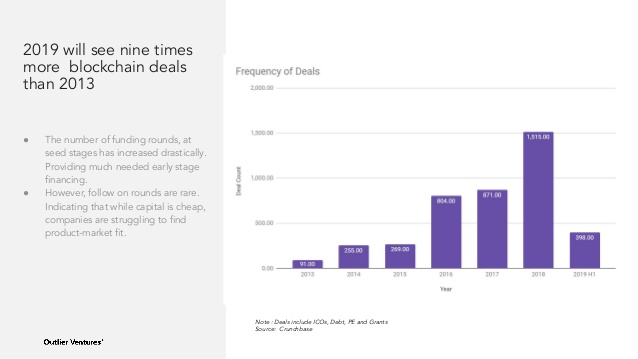 Despite all that, crypto firms are still finding conducive locations to start their firms with companies at infancy stages finding hope in London. London is a hub for early stages firms organizing their seed-stage funding raising events. As a hub, London has helped firms raise $1 billion since 2013. However, across the globe, the US is at the leading front of funding blockchain-based projects, but local San Francisco is leading.
While the above figures point to different situations on the ground, the two sectors are still growing alongside each other.