The "2018 Blockchain Technology Summit" organized and held by Boolan.com concluded successfully on Aug 25, Shanghai. This Summit focuses on the development and future trends of global blockchain technology and is committed to promoting its innovation and application, and building a high-end industrial ecosystem. At the Summit, technical experts, business leaders, important VCs and elites from various industries gathered together, having discussion on the general features and characteristics of blockchain industry, technological application and development, and interpreting, investigating, sharing the cutting-edge progress of blockchain and profound revolutions it caused from the perspectives of technology, application and model innovation.
The opening address was given by Mr Li Jianzhong, founder and CEO of Boolan.com, organizer of the Summit. In the address, he shared with audience the vision of the company: gathering wisdom around the world and building a first-rate IT education platform through connecting and integrating top expert resources in the globe. At this Summit, elites from various industries around the globe assembled and helped to forge a high-level banquet of technological exchanges and communication of blockchain field and to bring about more enlightenment and thinking.
The Summit had several tracks, namely, keynote speech, panel discussion, innovative project exhibition, etc., which broke the communication barriers and strengthened the intra-industry cooperation, bringing new opportunities of the operation and expansion of enterprises, promoting the exchange of experience and new insights among practitioners. It attracted first-line IT practitioners both home and abroad from top 500 enterprises like Huawei, Tencent, Ali, ZTE, 360, Ericsson, HP, PayPal, Standard Chartered, etc.
"Blockchain+" Diversified Speech Topics Assembled
As an overturning innovative technology, blockchain technology application has become a worldwide topic. In the keynote speech session, more than thirty international speakers shared their research and views on blockchain technology from various perspectives including blockchain ecosystem, infrastructure, industrial upgrading, security issues, retailing, AI, financial service, new energy innovation, insurance service, etc.
The first keynote speech of the Summit was brought Mr Yao Xin, Founder of PPTV and Partner of Bluerun Ventures. In his keynote speech named "Back to Value: Some Thoughts on Blockchain Ventures", he proposed a constant attention to venture opportunities of decentralized infrastructure and tool application platform, and he also revealed the major project his team is working on — PPIO, the next distributed storage.
The second keynote speech was given by Mr Lon Wong, Founder if NEM foundation and CEO of ProximaX, a famous blockchain platform. He deemed that blockchain is a technology concerning value transfer, and we should expand its application to other new domains, such as data transmission and file storage.
Liu Honglun, CEO of N22 Technologies and also a famous investor, shared with us his observation of edge computing, and he held that "edge computing + blockchain" will be the next big wave of internet revolution.
In the panel discussion with the topic "To Build the Next Blockchain Ecosystem", a multi-national blockchain expert cast air their own opinions and exchanged views. They offered innovative thinking regarding the practical application of blockchain technology and the atmosphere of the Summit became more exuberant.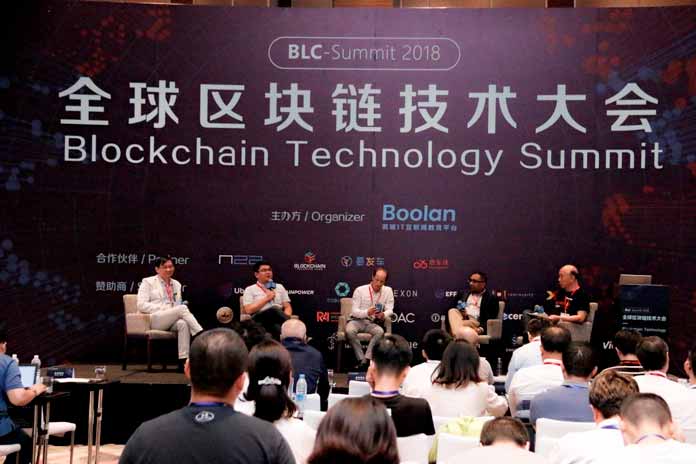 Diversified Blockchain Innovations around the World
As an overturning technology from "Information Internet" to "Value Internet", blockchain technology will completely reconstruct the productive relations. In the parallel sessions, blockchain enterprises from different parts of the world exhibited their innovative technologies, application scenarios, business models and other core elements in an open manner, which include: Ubex, a global advertisement exchange platform focusing on decentralization; DEXON, which tries to forge a new high-speed blockchain network; EtainPower, devoted to seeking innovative energy solutions through "blockchain+AI"; Socieum, who utilizes social resources around the globe to cope with housing crisis; Salamantex, who creates a convenient crypto payment method; ExTrade, one-stop digital asset service platform; MOAC, a blockchain layered architecture born to commercial application; KeyperX, a multi-effect crypto currency application platform; Swappit, a high-efficient crypto currency loan service provider; XMaterials, focusing on future material technology; XResearch, an online media platform for blockchain tech companies and global investors; Daconomy, specializing in sensor data; Efforce.io, who combines blockchain technology and energy-efficient programs to render profit for customers; REM Loyalty, who helps customers unlock their loyalty rewards; Medipedia, who relates patients to medical institutions by blockchain technology; Decentra-group, who provides legal and marketing service for blockchain-related companies; iTure.io, who takes blockchain as a service platform; BaaSid, a platform for segmentation and distribution of pictures and texts using blockchain technology; Hycon, hyperlink currency; Silent Power, a CO2 -neutral feul smart contract; NYCREC, who helps enterprise customers to deal with ICO and relevant process; R4/GEMAST, an innovative techwho monitors and tracks the collection and transportation of waste. These blokchain-related projcets acquired enthusiastic attention among audience.
Among the global blockchain enterprise innovation exhibition session, the innovation projects of Ubex, EtainPower and DEXON stood out and received broad acclaim. Artem Chestov, CEO of Ubex, asserted that Ubex realized accurate advertisement putting and smart digital marketing by use of neural network techniques and blockchain technology. The Ubex solution coped with precise reach, pay-for-effectiveness, lower cost of advertisement release, etc., which pointed straightly to the concern of stakeholders. They also established a whole series of advertisement credit system through advertisement position tokenization and realized the virtuous cycle in advertisement ecosystem.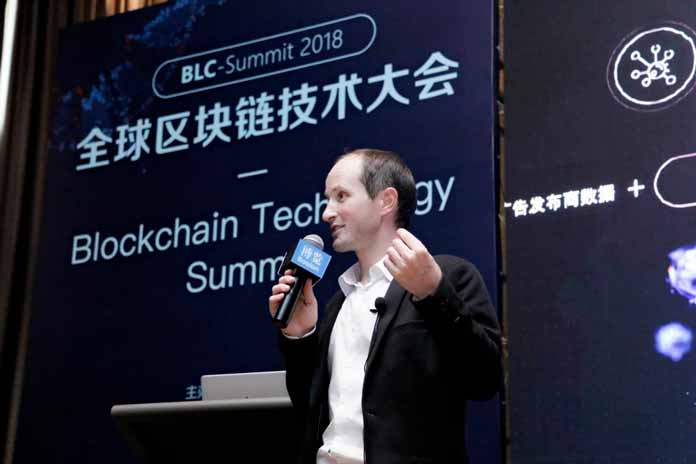 Dong Difeng, Founder of EtainPower, introduced the mission of the company. EtainPower is dedicated to dealing with problems like low percentage of renewable energy, lack of intellectuality of traditional power grid, low efficiency of centralized management mode, non-crystal transactions. The blockchain tech platform that EtainPower is forging is safe, decentralized, with high handling capacity, and it realized the smart transaction, circulation and management of energy and resources.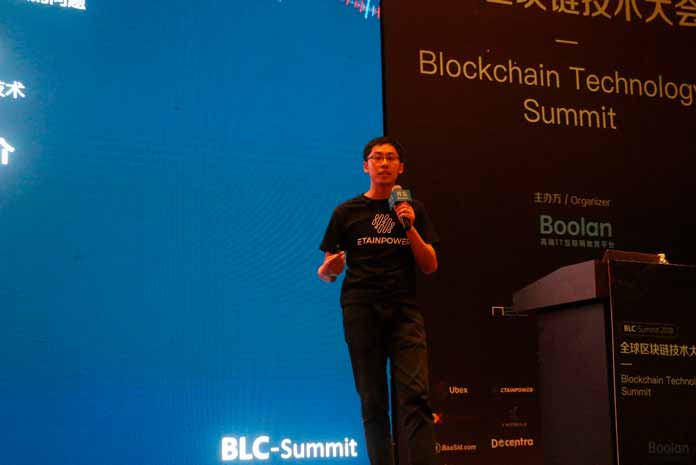 Popo Chen, Founder of Cobinhood and DEXON, introduced their new high-speed blockchain network — DEXON. DEXON has boundless scalability and very short responsive time, and realized decentralization and high energy utilization ratio. In the future they will focus on building decentralized storage network and information network and forging the DEXON ecosystem that serve multiple fields including IOT, supply chain, fintech, etc.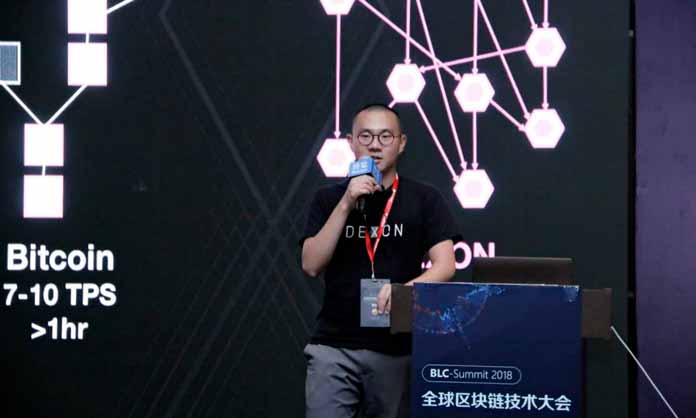 In the Q&A part, the audience actively and eagerly interacted with the speakers, especially after the speech on blockchain technology applied to insurance, which led to reflection and discussion of internet insurance innovative practice.
The 2018 Blockchain Technology Summit was concluded successfully. The various and spefic views of speakers, ardent discussion at the panel and roadshows of superior quality, promoted the ecosystem building and also the communication among others. And the specific application value in all the fields has been excavated and discussed. The Summit was conducive to the realization of innovation, health and consensus of the industry. We thank all the attending exhibitors, guest speakers, partners and media for their support, and also the regular attendees and people who have been paying constant attention to the Summit .
To gather top experts around world and to link global wisdom, Boolan perseveres in building a top-rank IT education platform. See you at BLC Summit 2019!
Thanks for the support of the international media: