The "800 Pound Gorilla" session was set to provide answers about digital assets adoptions from organisations that are already using them for cross-border payments. Traditionally the cross border payment infrastructure is slow and very costly. The birth of digital assets therefore offers a solution to this process and Ripple is positioned for the large entities as the preferred one.
Most banks and payment providers across the world are not only interested in using digital assets, but also understand the value of using them in settling payments. These findings are according to the very first Blockchain in Payments Report released during the talk at Swell 2018.
The discussion was moderated by Kanchan Kumar, Remitr CEO, and was fully focused on providing solutions about the adoption of digital assets by organizations that are already using them for cross border payments.
Kumar first outlined the impact that broad digital assets could have on the cross border payments industry. He mentioned the approximated $10 trillion dollars lying idle in pre-funded accounts across the world. Kumar connected the figure to the importance of digital assets before asking the panel what value they saw in the adoption of these assets.
The panel consisted of;
Bittrex Head of Business Development, Kwon Park.

IDT's Senior Vice President [SVP] of Payment Services, O'Hagan.

CFO of Cuallix, Nicholas Placious.

SVP/COO of Catalyst Corporate Federal Credit Union.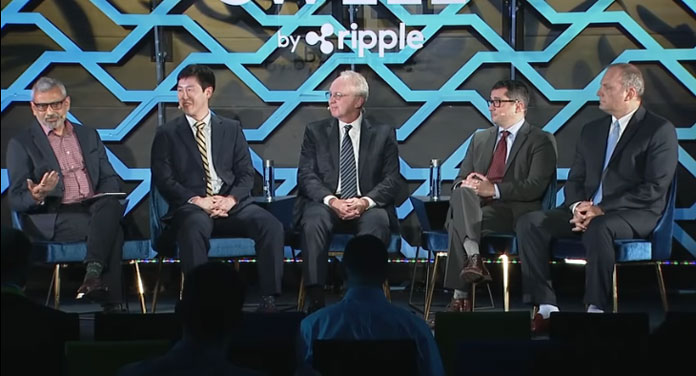 Palacios, who's company implemented the use of digital assets for payments was first to respond and he showed how his company is focused on "cost efficiency, time efficiency and giving clients the best product we have."
Using digital assets will largely address the problems faced by users of the cross border transactions. Ripple has so far played a major role in making cross border payments easy and fast. O'Hagan elaborated that his company started using digital assets two years ago, settling payments to Mexico and Nigeria.
He believes that using digital assets such as Ripple really put in the 'centre of the experience' for his company. He said that speed equals reliability in their business and that's the customers' expectation.
Park said, on behalf of the panel what Ripple aims to do is very innovative and good for the clientele. He explained that Bittrex's main aim was to be a platform that could support the best uses of digital assets.
Ripple's Role
Ripple [XRP] has a great potential to revolutionize the traditional payment processes by enabling safe, immediate payments and at lower costs – thus significantly contributing to the digitalization of the financial industry.