Snoop Dogg is going tp to grow digital marijuana in the metaverse in a partnership with his son and Mobland marketplace. Mobland bills itself as the "first-ever mafia metaverse," which is somewhat controversial.
What a Partnership
The Mobland marketplace will offer a limited number of Snoop Dogg's digital pot farms. Owners won't be able to feel the actual benefits of this virtual marijuana, for sure. But they'll be hoping that prices skyrocket. It's not clear if the virtual weed can be sold for actual ones or not. Anyway, it's a new concept and can open many opportunities. 
Roy Liu, Mobland's co-founder, stated that his initiative is searching for additional opportunities to give back to the cannabis community.
He added:
"NFT 1.0 is about individual character and item, NFT 2.0 is about land and real estate, NFT 3.0 is about business and utility on top of the land and real estate."
The weed farms also mark a transition from play-to-earn to "grow-to-earn."
For the new venture, Snoop has partnered up with his son Cordell Broadus (also known as Champ Medici). It's the latest in a long series of cooperation in the rapidly evolving NFT field.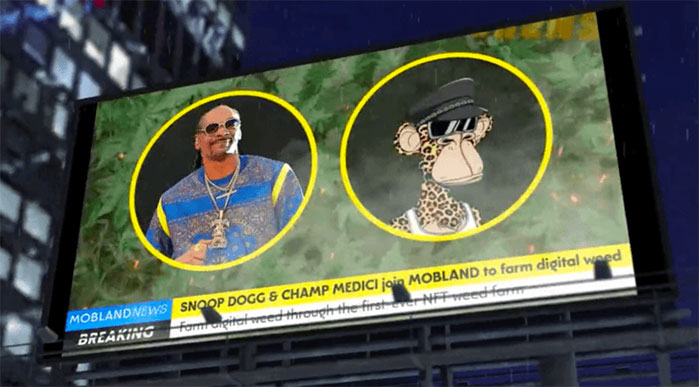 Champ Medici said about the partnership:
"I saw my father play video games my whole life. Cannabis and game controllers live hand in hand with him; that's why I think it's no brainer to bring the metaverse and digital weed together."
Snoop Dogg hasn't announced anything officially about the latest partnership. He often tweets about partnerships like this; however, Champ Medici appeared to confirm the story in a quote tweet. 
It's fair to assume that 4/20 has been one of the rapper's happiest moments of the year, and Snoop checked in with his 20 million followers last night to see whether they participated.
The musician also made the best of the occasion to produce limited-edition NFTs "for a special 420 edition mix" of music. According to Mobland's website, the company currently boasts a membership of almost 500,000 individuals, with 8,000 NFTs sold out in only 18 minutes.
The latest project of Snoop in the NFT sector is both interesting and controversial. Weed farming or selling isn't legal in many countries. Although the digital form and NFT trading are less problematic, they may have a problem attracting a big user base. On the other hand, some may follow this trend and even help weed legislation in more regions. We can expect this moe to start a new era in the form of NFTs, too.