Shiba Inu (SHIB) has been on a revival streak over the past few days as the price of popular dog-themed cryptocurrency increased more than 20% in the past seven days. What factors seem to be driving this rally?
Following a brief rally, Bitcoin (BTC) extended its fall on Friday as the largest crypto token dropped about another percent to slip below the $29,500 mark once again. Meanwhile, its largest peer, Ethereum (ETH), was trading slightly lower slipping below $1,850 levels after the latest weakness. Moreover, price action in the major altcoins market was on the lower side barring a few digital assets.
As the digital assets industry continues to shake off macro waves after better-than-expected US inflation data, the global crypto market cap dropped 0.11% in the last 24 hours to $1.17 trillion. In tandem with the overall market conditions, the total crypto market volume over the last 24 hours also decreased by 23.86% to $25.53 billion.
Shiba Inu Fires Up Ahead of Shibarium Launch
Despite the lackluster investor sentiments, Shiba Inu (SHIB) has improved in spirits, giving investors of the meme coin a reason to be cheerful. According to CoinMarketCap, the popular memecoin is up more than 2 in the last 24 hours to trade at $0.000010. On the other hand, SHIB jumped 19.88% over the course of the previous seven days in an ongoing pattern of recovery that commenced two days prior.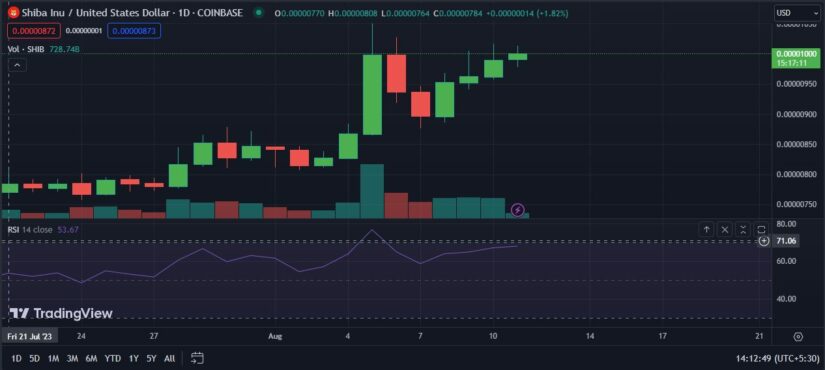 On 5th and 6th August, Shiba Inu (SHIB) peaked high to touch $0.00001033, strengthening its bullish trend. On the flip side, as analyzed by experts, Shiba Inu (SHIB) is likely to pull back soon before it establishes an upward rally. An increase in seller pressure could push SHIB's price down to $0.0000065, invalidating the bullish trend.
It seems, SHIB, is on the heels of a possible Shibarium launch, an innovative upgrade to its layer 2 blockchain, that could make its price sit above the $0.00001 target. Scheduled for release this month, Shibarium holds the key to addressing the prevailing scalability and network congestion issues that the Shiba Inu blockchain currently grapples with.
Major Improvements Incoming
It is likely the recent rally can be credited to the growing anticipation among meme coin enthusiasts for the upcoming introduction of Shibarium. Speculations surrounding Shibarium Mainnet's release intensified following an abrupt halt in Puppynet activity on August 5 after Puppyscan, the blockchain explorer of Shibarium Beta Testnet, unveiled a peculiar activity in the network, generating a wave of curiosity among the Shiba Inu Community.
Has the blockchain stopped testing since two days ago to prepare for its launch on August 16th?#Shibarium pic.twitter.com/ppBPL0Gx3Q

— Shiba Arab army™ (@Labib_co) August 7, 2023
This managed to drive speculations among Shiba Inu enthusiasts that the beta phase of Shibarium, dubbed Puppynet, has concluded in preparation for the launch of Shibarium Mainnet. Furthermore, making essential preparations for the upcoming Shibarium Mainnet launch, Shytoshi Kusama, the lead developer of SHIB, revealed several improvements in the Shiba Inu ecosystem.
The developer confirmed that the SHIB team will soon relinquish ownership and control of the BONE contract shortly after minting the remaining supply of BONE. In addition, the Shiba Inu team introduced several other initiatives to improve the SHIB network ahead of the long-awaited Shibarium Layer 2 solution.
This will contribute to the preservation of decentralization, including the Shibarium SSI (Self-Sovereign Identity) and the launch of the Shibarium beta bridge for public testing.
Let's talk about Shib SSI and #shibarium! 😊 & This blog is now available in 10 languages! #verysoon https://t.co/noEu4bkvgW

— Shytoshi Kusama™ (@ShytoshiKusama) August 6, 2023
SHIB total Number of Addresses Hits ATH
In the wake of these upcoming developments, Shiba Inu has witnessed a remarkable surge in its upward movement. As per recent IntoTheBlock data, Shiba Inu has achieved a new milestone in this regard, with its total number of addresses setting an all-time high of 3.53 million. The data also shows that 69% of SHIB holders have held their tokens for more than a year, 27% within a year, and 4% for less than a month.

Several experts have shown confidence in the upcoming Shibarium launch, noting it will revolutionize the accessibility of SHIB-related token transactions. Adam Garcia, CEO of The Stock Dork, said the token's value could experience a substantial increase in the short term, especially as the network capabilities are upgraded and "supply-side pressures are reduced." 
He further added that greater interest could lead to more demand for Shiba Inu (SHIB), that consequently will lead to an increase in price.
Crypto Price Depends on several factors
However, it is impossible to predict the future of the crypto market with absolute certainty. Due diligence regarding various issues such as macroeconomic conditions, geo-political issues, and regulatory concerns, among others, have to be taken under consideration before delving into the market.
Despite the volatility, it is undeniable that the crypto industry has shown tremendous growth in the past few years. We at Crypto-Economy are optimistic that this trend will continue into 2023, as past performance of crypto markets suggests that digital currencies are here to stay.