The Ripple price appears to be shaking off the lulls of December. Then, the SEC shredder struck, causing a dump to sub $0.20.
Prices have been recovering slowly, a net positive for investors and believers, who, despite some exchanges suspending trading, hanged on, consequently benefitting from the over 100 percent gains of the weekend.
XRP Pumps
Possible pumps were because of Ripple lawyers, most of whom are former SEC officials, who made a case that if XRP, the coin that powers the XRPL, is a security, ETH, the native currency of Ethereum, one of the most popular smart contracting platforms, should also be a security.
Their rationale is simple: Ethereum, through the Ethereum Foundation, crowdfunded, raised millions facilitating their development back in 2015.
On the other hand, Ripple Labs, the issuer of XRP, didn't crowdfund. Instead, Ripple, the for-profit company, owns a majority of XRP in circulation.
Some of the initial XRP is also owned by Jed McCaleb, the co-founder and the founder of the Stellar Lumens, and Chris Larsen, the co-founder.
Ethereum as an Example
Ripple lawyers are now requesting documents of their correspondence between the SEC and the Ethereum Foundation, ConsenSys, and, if any, to Vitalik Buterin, one of the six original co-founders of Ethereum.
Their taking to task, demanding explanations from the agency– whom some of Ripple's executives claim is not allowing for a smooth evolution of crypto, stifling some projects, as a result, could see the XRP coin further gain.
It would be tricky for the agency. How they respond will determine whether they were stretching the interpretation and the meaning of the investment contract.
Ripple Price Analysis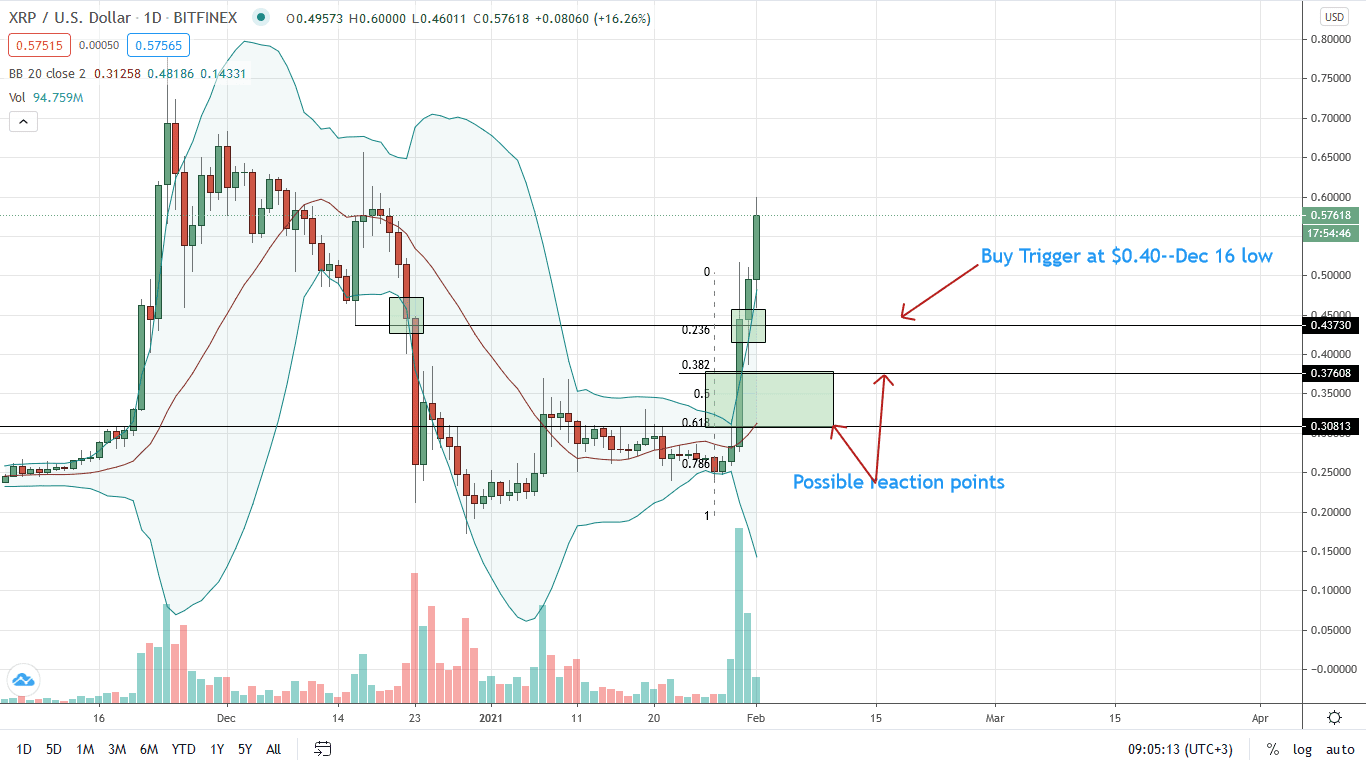 The Ripple price is bullish. Week-to-date, XRP has doubled to $0.56. Expectedly, it has surged against BTC and ETH, adding a ballpark 95 percent.
In the daily chart, the path of least resistance is upwards. After days of horizontal consolidation leading to a squeeze, the sharp spike of Jan 29 comprised of a breakout. Most importantly, it is with high participation pointing to bulls.
A wider review also confirms this breakout as a three-bar bullish reversal pattern from H2 2020 lows. The complete reversal of Dec 23 losses with better trading volumes suggests a possible trend reversal. As such, every pullback is technically a loading opportunity for traders aiming at $0.66 and $0.78 in the medium term.
The breakout level of $0.40 is the first support line, a breakout level, and it would be the first reaction level. A deeper correction to between $0.35 and $0.30—the 50 and 61.8 percent Fibonacci retracement levels of the Jan 30 and 31 bull bars are reaction points if there is a pullback.
Chart Courtesy of Trading View
Disclosure: Opinions Expressed Are Not Investment Advice. Do Your Research.
---
If you found this article interesting, here you can find more Ripple news