Ripple Inc., the for-profit company with multi-billion valuation is keen on easing and lowering the cost of remittance. In developing countries, it would cost an arm and a leg to remit funds from one zone to another.
The blockchain aims to solve this. In the Ripple world, the XRPL ledger is the canvas through which every detail will be drawn and executed.
There are legal challenges, and the Ripple lawyers have won most of them. What remains is an endorsement from the mainstream US regulators on what most coins besides ETH and BTC are.
As the third most valuable coin with multi-billion valuation and liquidity, Ripple Inc. and XRP piques investor's interest.
Their seminars and conferences from any of their lead executives attract more questions than answers. Last week, their annual SWELL conference hinted of what the Ripple Inc. plans to do with XRP and the RippleNet.
As a suite that promotes the for-profit company and any of their products, news of the Bank of America (BoA) leveraging XRP for cross-border transfers was received with enthusiasm from investors and supporters across the board.
In a mock demonstration, the bank seemed to be using the ODL to effect a cross-border transfer at low cost and with near-instantaneous execution. Presently, there is still no official communication from the American financial giant.
However, if this is true and the bank uses the ODL network to transfer value, the demand for XRP will be huge and goes a long way to steady prices.
Compared to other coins, prices are in range mode with obvious caps at $0.30 in the medium term.
Ripple Price Analysis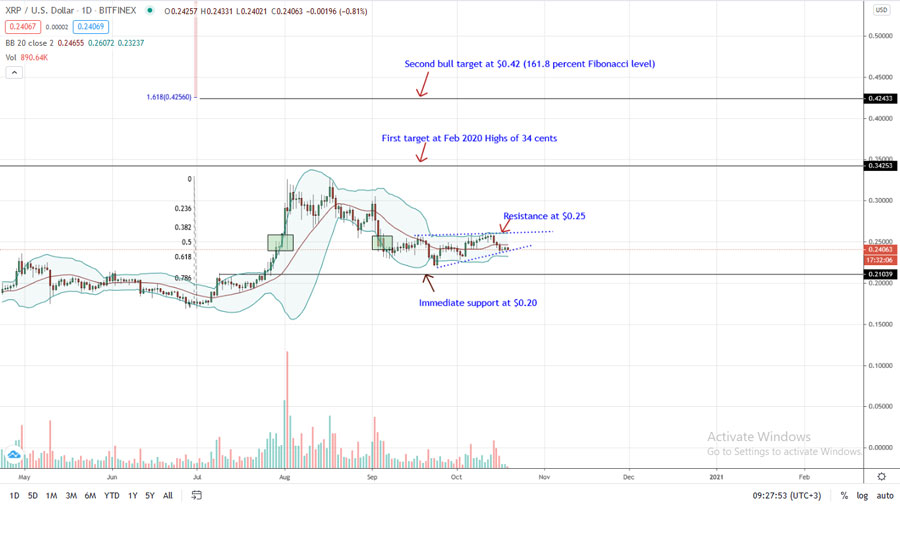 The Ripple price is stuck in range mode with caps at $0.25 to the upside and $0.20 to the downside. At the time of writing, the XRP price is down near six percent against the board versus the USD, ETH, and BTC.
From the daily chart, prices are trending higher. The immediate resistance line is $0.25 and the support trend line from where prices are trending higher remains a reliable support zone.
Even though prices are under immense pressure but trending inside an ascending triangle, the medium term trajectory depends on the reaction at $0.25.
A sharp, high volume break above this resistance line confirms the double bar bullish reversal pattern of late September 2020.
If buyers build enough momentum to close above this line, odds of the Ripple price rallying to $0.30 remains high.
On the flip side, the support trend line and the 20-day moving average form a reliable buy zone. If bears force prices below this mark, the XRP price may fall to $0.20 and even $0.17.
---
Chart courtesy of Trading View
Disclaimer: Views and opinions expressed are those of the author. This is not investment advice. Do your research.