The crypto market along with Bitcoin (BTC), Ethereum (ETH), and other top cryptocurrencies continued to weaken on Friday with macroeconomic uncertainty continuing to bother investors and traders.
The downtrend in the cryptocurrency market could be attributed to the economic data, which seems to be weighing on investor sentiments. It seems easing concerns about the debt ceiling has also affected the market conditions. The digital assets industry observed a slight selling pressure in the last 24 hours.
According to CoinMarketCap, the global crypto market is down 1% in the last 24 hours to $1.12 trillion. Meanwhile, the total crypto market volume over the last 24 hours plummeted more than 6% to $31,44 billion. Market experts suggested the crypto space will likely witness near-term volatility that will affect the price actions of most of the digital tokens. 
Market Condition To Remain Choppy
Bitcoin (BTC) fell over 1.79% in the past 24 hours to trade at $26,875. However, over the past seven days, the largest digital asset is up 1.93%. The plunge in BTC is due to several factors such as economic data, recent congestion on the Bitcoin blockchain, and another recent Fed rate hike to tame inflation.
Furthermore, a significant amount of Bitcoin options is set to expire on 19 May 2023. The flagship token has approximately 29,000 options awaiting expiry today. This event will likely impact BTC prices along with near-term volatility.
On the other hand, Ethereum (ETH) tanked 1.09% in the last 24 hours to hover around $1,807. The second largest cryptocurrency witnessed a sudden drop in prices after Chinese prosecutors decided to crack down on the NFT market.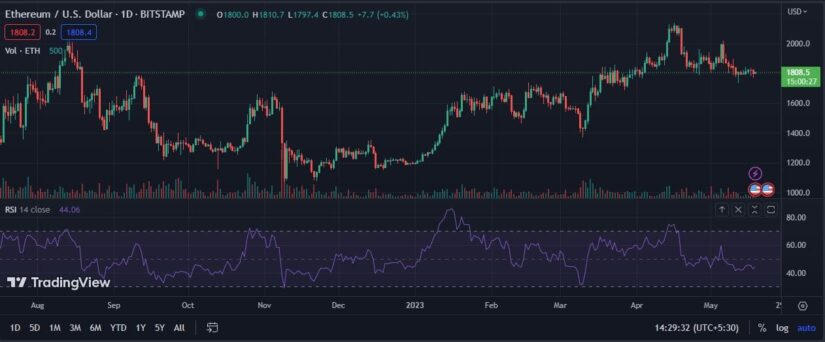 Another regulatory headwind that has pulled ETH down was after United Kingdom's lawmakers claimed that crypto assets should be regulated like gambling due to the high-risk nature of investing. Meanwhile, Ethereum is also awaiting 169,000 options expiry, today. In a statement, Edul Patel CEO at Mudrex said,
"Ethereum has experienced downward movement in three out of the past five days, resulting in a five percent decline in value month-to-date and a 6.2 percent decrease overall."
🚨 Published today 🚨

🪙 We've just published our report on cryptoassets, setting out our recommendations for the Government's approach to regulating this market.

📗 Learn more and read the report in full 👇https://t.co/CK7CVH2pQ1 pic.twitter.com/GvDQfiGhPU

— Treasury Committee (@CommonsTreasury) May 16, 2023
Altcoin Market Feels The Heat
At the same time, barring XRP and the US dollar-pegged stablecoins, all other top crypto tokens were trading lower on Friday. Cardano (ADA) and Solana (SOL) dropped 1.72% and 1.86% in the last 24 hours, respectively.
Polygon (MATIC), Polkadot (DOT), Litecoin (LTC), and Avalanche (AVAX) slipped in the range between 1% and 3%. Similarly, popular memecoins including Dogecoin (DOGE) and Shiba Inu (SHIB) lost around 1% each.