Defying the unimpressive market conditions, Avalanche's native token, AVAX has managed to pull a rally that netted over 31% gains in the last two days alone.
At a global market cap of $2.14 trillion, several large-cap coins were stuck within the confines of a tight range. The fear in the market is palpable. However, there are outliers. Avalanche [AVAX] is one such token that has recovered from the steady pullbacks that dragged the collective market.
The Boost
Even as the market continued to flash red, AVAX recovered from the weekend slump and gained over 18% in the past day. It was currently trading at $95.62 with a valuation of over $23 billion.
Interestingly, the upswing coincided with the announcement of Avalanche adding popular stablecoin USDC on December 14th. The Ethereum rival may see a major boost in the amount of DeFi already happening on the network. The latest integration is also expected to set the stage for transaction and payment options for the AVAX ecosystem's growing developers and participants.
"Native USDC on Avalanche will empower more developers and users to build and access the Avalanche ecosystem."
Ava Labs President John Wu was also bullish on the integration. The exec went on to say,
"On Avalanche, the use of USDC is higher than that of USDT. Although USDT's market cap is bigger, USDC is probably the one that a lot of US-based people trust more"
Rising Optimism in Avalanche's [AVAX] market

The Bollinger Bands [BB] depicted consistent volatility in the coin market that may aid in the growth of the asset. The Awesome Oscillator [AO] also flipped green depicting a bullish momentum in the market. Besides, the rising Relative Strength Index [RSI] also indicated an increasing buying pressure in the market.

Increasing capital inflow into the AVAX market was shown by the Chaikin Money Flow [CMF] on the verge of making a headway above the zero-line. The MACD also appeared to be gearing up for a potential bullish crossover in the near term while the On Balance Volume [OBV] signaled a steady trading volume in the market.
Avalanche's Epic Growth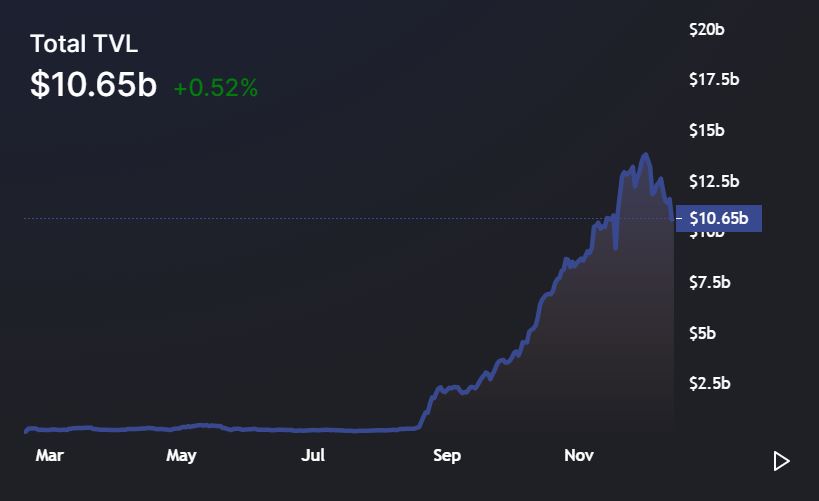 The upward trajectory followed by the network's total value locked [TVL] demonstrated the interest and activity in the AVAX ecosystem. According to DeFiLlama, the figures have increased from a low of $200 million to the press time TVL of $10.65 billion in the last year. One of the major catalysts was the $180 million incentive program- Avalanche Rush initiative that was launched in August this year. The launch of a $3 million liquidity mining incentive program by Benqi, a native lending project with the Avalanche Foundation also boosted the ecosystem. More recently, the $200 million funds 'Blizzard' further amplified Avalanche's rise.