Litecoin, in its quest to become a global household name, has taken the fight to another level by partnering with GLORY, the world's premier stand-up combat league. Announcing this partnership on Tuesday, February 26th, the Litecoin Foundation stated that it will be the official cryptocurrency supported on the GLORYshop.com online store for GLORY merchandise platform.
The partnership entails co-branded merchandise as well as the acceptance of Litecoin as the preferred method of payment on GLORYshop.com. This partnership has effectively made "GLORY the first professional sports league to integrate Litecoin into the end-to-end fan experience."
According to the announcement,
"GLORY fans in the US and Europe will soon be able to access exclusive offers, including athlete meet-and-greets, backstage arena tours, limited-edition merchandise, and premium in-arena seating, only available for purchase at GLORYshop.com with Litecoin."
The best part about this partnership for Litecoin is that it will receive worldwide exposure especially to the fans of combat sports.
"GLORY has a growing worldwide fan base that consists in large part of a younger demographic who are early adopters of technology and conduct much of their lives online – from consuming content to purchasing products," said Charlie Lee, the Creator of Litecoin. "As GLORY continues to grow, tapping into their global audience and educating them about Litecoin through real-world use cases can be powerful," he added.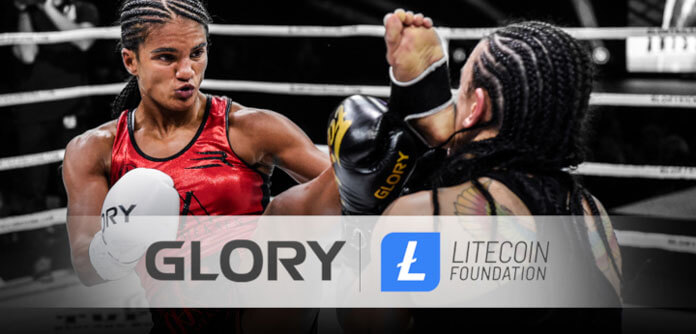 Expressing similar sentiments, Marshall Zelaznik, the CEO of GLORY said that the partnership between the two entities couldn't be more perfect.
"A partnership with Litecoin, which offers one of the fastest transaction confirmation speeds of any cryptocurrency, makes perfect sense for GLORY and our fans as we continue to put on the fastest fight action in the combat sports world. With both companies also being young, dynamic and achieving consistent growth, GLORY could not have found a more fitting cryptocurrency partner."
Litecoin is employing a strategy whereby they are trying to find passionate audiences then marketing to them through product placement and partnerships or sponsorship deals that help keep their name and logo where it is most visible and this partnership is no exception. Litecoin Foundation, through the announcement, stated that,
"We see these types of partnerships as opportunities to tap into passionate audiences around the globe and educate them on the power of Litecoin."