It has recently surfaced that several US financial institutions are looking forward to offering their clients increased exposure to Bitcoin and crypto. At the same time, these financial institutions also manage assets worth a whopping $27 trillion. The chief strategy officer at CoinShares, Meltem Demirors, highlighted that approximately eight financial institutions have displayed movements in the digital assets space. This also includes Blackrock's spot Bitcoin ETF filing as well as Fidelity's crypto wealth management solutions.
1/ last week's @BlackRock spot Bitcoin ETF filing was big news!

but, it's not the only story. many of the largest financial institutions in the US are actively working to provide access to Bitcoin and more.

a quick glance – $27 trillion of client assets here! pic.twitter.com/azmHZmUL2a

— Meltem Demirors (@Melt_Dem) June 26, 2023
Other financial institutions include JP Morgan, Morgan Stanley, Goldman Sachs, BNY Mellon, Invesco, and the Bank of America. Blackrock's filing for Bitcoin ETF resulted in a number of filings for similar products. The overall increase suggested that institutions would eventually come for Bitcoin. Not too long ago, Bitcoin managed to reach a 2023 high of approximately $31,185 which suggested greater investor confidence. However, Demirors pointed out that institutions might be coming, but the current situation is still a trickle instead of a wave. At the same time, she also pointed out how everyone is experiencing bridges being built in real-time.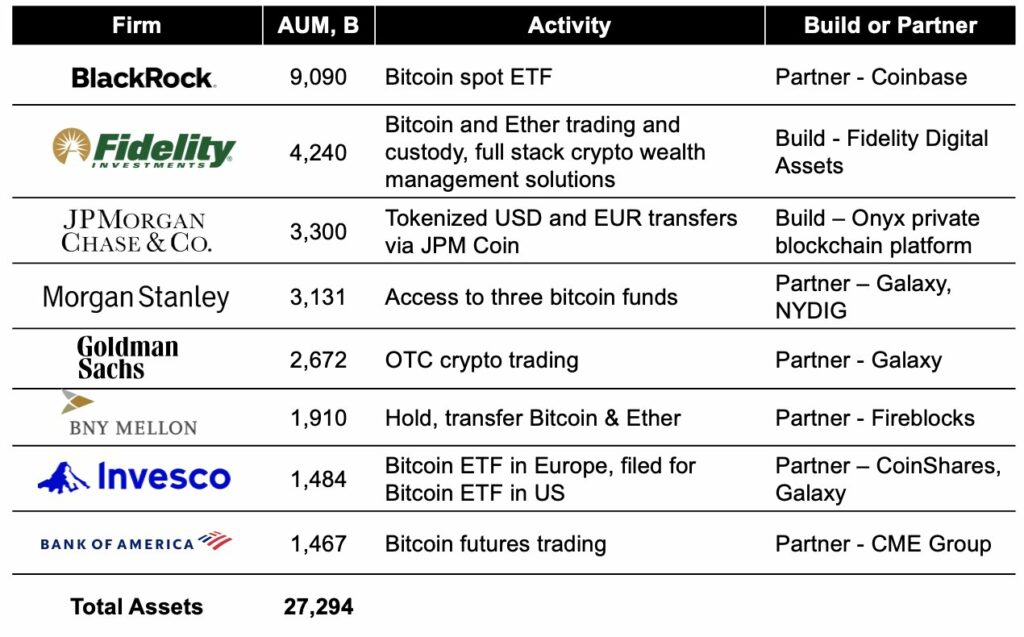 The masses believe that the $27 trillion figure is more of an estimation of the total assets under the management of the eight financial institutions. Keeping that in mind, it is widely believed that a minor percentage would be allocated toward crypto investment and developments. It is a fact that institutional investors are displaying increased interest toward Bitcoin. The Pro Shares Bitcoin Strategy ETF saw its greatest weekly inflow for the year, pushing assets under management over $1 billion. 
Financial Institutions Push for Bitcoin Exposure Despite Concerns 
Despite the masses believing that the adoption of Bitcoin and other cryptos might become inevitable, several regulators have been urging them to implement a proper crypto regulatory framework. Just last week, a member of the Federal Reserve Board of Governors, Michelle Bowman, criticized the absence of a crypto regulatory framework and claimed that the increased uncertainty surrounding crypto traps institutions into a supervisory void. 
The FATF has also recently urged countries to implement the crypto travel rule in hopes of eliminating crypto anonymity and putting an end to money laundering and terrorism financing. The FATF argues that there are a number of loopholes in the system that criminals exploit and that they must be closed to put an end to the apparent issues.