In a recent mysterious post, PancakeSwap caught the attention of the crypto community by highlighting the date of November 22 in a message on its social media. In this enigmatic post, PancakeSwap left the phrase: "Do you see what I see? 22.11.23."
The message triggered speculation and anticipation among investors and followers of PancakeSwap, as the post does not provide specific details about the reason for highlighting the mentioned date.
The community is now awaiting an announcement or relevant development scheduled for November 22, hoping to gain more clarity on the future direction of CAKE, the cryptocurrency associated with the exchange.
🐰Do You See What I See?

🥞22.11.23 pic.twitter.com/Jz5qgO2lMe

— PancakeSwap🥞Everyone's Favorite DEX (@PancakeSwap) November 20, 2023
How PancakeSwap's Mysterious Announcement Impacts
Notably, after the publication of this message, the price of CAKE experienced significant activity, registering an increase of nearly 4% in the last hour.
In the last day, CAKE has shown growth in its price by approximately 7.3%. According to the latest data from CoinMarketCap, the market value for each unit is $2.61.
Furthermore, its market capitalization rose above 5.5%, placing CAKE on the brink of a $600 million market capitalization. On the other hand, its volume also experienced growth of 7.28% and just surpassed $105 million.
It's worth noting that CAKE has had an exceptional month in terms of performance. It has shown a growth of 17.05% in the last week. If we broaden the perspective even further, that figure grows exponentially, resulting in a 141% increase over the past month.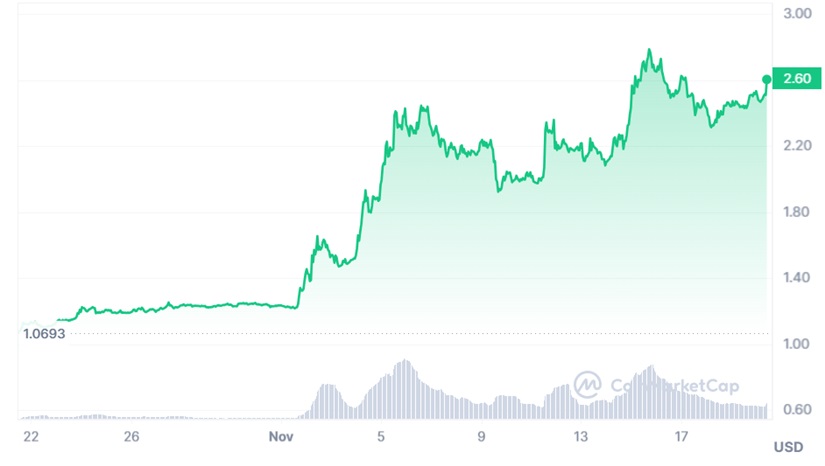 The crypto ecosystem is well-known for its volatility and the quick response of investors to events and announcements from projects. In this case, PancakeSwap's strategy of generating speculation around November 22 had an immediate impact on the price of CAKE.
Such events highlight how communication is not only about technical developments but also about marketing strategies and the generation and capture of investor interest.
The community is eagerly awaiting updates from PancakeSwap. For now, we will have to wait until November 22. In the meantime, we will closely observe how the situation unfolds and how it affects the price and perception of CAKE in the market.