The Ethereum "Fullness" Concern
Vitalik Buterin, the crypto kid wiz and the co-founder of Ethereum, is desirous of seeing the smart contracting platform overcome their on-chain challenges: scalability and energy efficiency.
Like Bitcoin, the network depends on node distribution and a proof-of-work consensus algorithm to effectively function. Although the consensus method has proved useful-and will continue to be applied by Bitcoin, the creators behind the second most valuable coin are searching for options.
In the next month, Istanbul hard fork-an extension of Constantinople and where six EIPs will be activated, will go live. Significant, it would be the first of a long list of improvements-and debate and disagreements, which will eventually culminate into Serenity or the so-called Ethereum 2.0. Ideally, in this perfect state, Ethereum won't be "full", processing millions of transactions per second while remaining perfectly decentralized and secure.
Tether Limited Launching an ERC20 Stablecoin backed with offshore Yuan
Perhaps getting ready, Tether Limited, the scandal-ridden issuer of the world's most valuable stable coin, USDT, has announced plans of launching an offshore Yuan-backed stable coin, the CNH₮.
Good news is that the token will be based off Ethereum, complying with ERC-20 standard meaning any Ethereum wallet would store the KYC-independent stable coin. Part of the announcement read as below:
"We are pleased to announce the addition of offshore Chinese yuan (CNH) to our basket of supported currencies, and the launch of a new stablecoin, CNH₮. CNH represents a further expansion of Tether's capabilities in facilitating the digital use of traditional currencies, such as US dollar (USDT) and euro (EURT). CNH₮ is pegged to CNH, and will initially be available only on the Ethereum blockchain as an ERC-20 token."
ETH/USD Price Analysis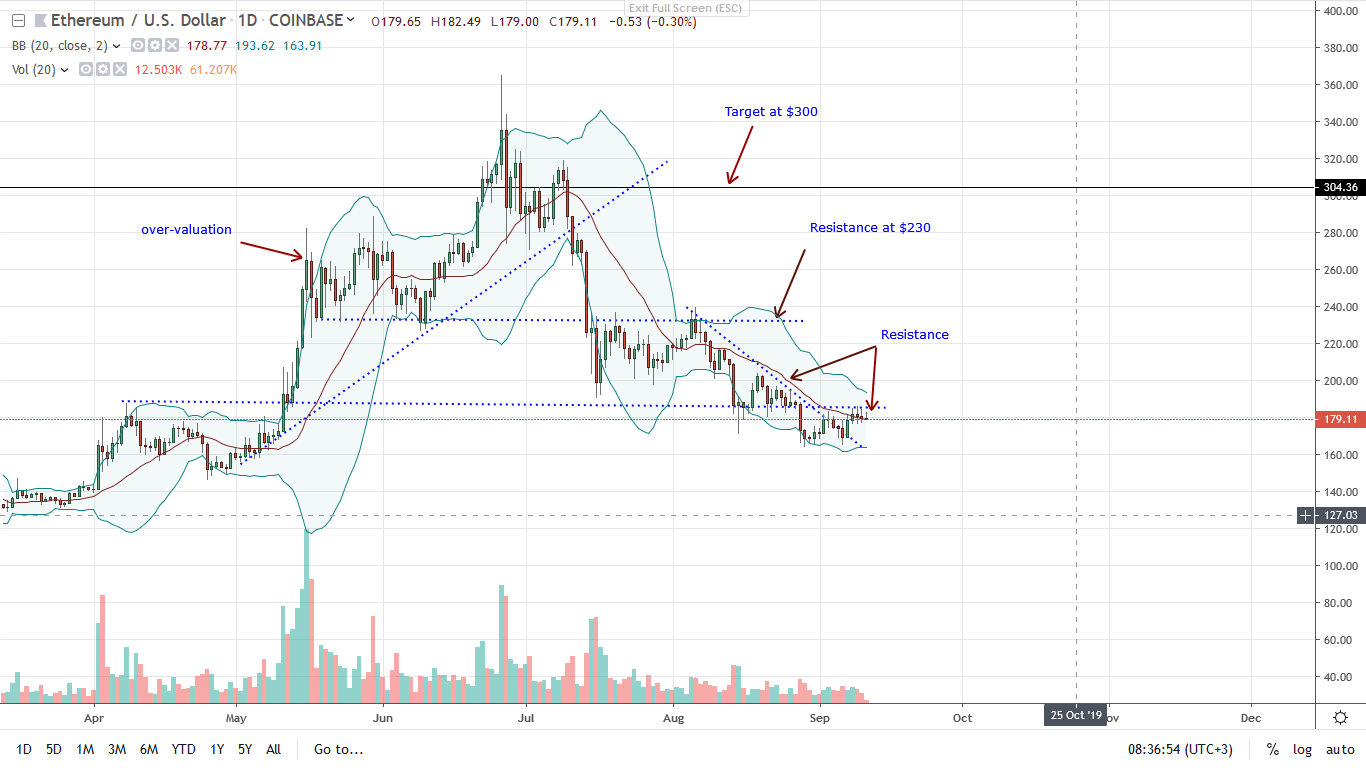 Week-to-date, ETH prices are relatively stable against the weakening USD. Down 0.33 percent versus the greenback, and up 3.25 percent against BTC, prices are largely consolidating. From the chart, it is clear that the trend is bearish. Even though ETH found support and bounced off from around $165, there is strong resistance at the $180-190 zone.
Therefore, and in line with previous ETH/USD trade analysis, it is imperative that the next wave of higher highs confirming the minor bullish breakout above the August trend line is at the back of high trading volumes exceeding $11k of Aug 28.
Ideally, that would confirm the three-bar bullish reversal pattern of Aug 28 through to Sep 2 meaning the sharp decline of Aug 28 was a climactic sell-off, a bear shakeout, in readiness of an uptrend. Any close above $200 could spur demand that could see ETH float to $300 and even $365 in days ahead.
Nonetheless, since the prevailing trend is bearish, risk-off traders can sell the pullback with stops at around $200 and aim for $160, $130 and even $100 if there is a sharp reversal forcing prices below immediate support at $160.
Chart courtesy of TradingView—Coinbase
Disclaimer: Views and opinions expressed are those of the author and is not investment advice. Trading of any form involves risk.  Do your research.