GMX, a decentralized spot and perpetual exchange, is gearing up to improve cryptocurrency trading and investing by enabling users to trade Bitcoin (BTC), Ethereum (ETH) and other popular digital assets from their personal wallets. In addition, it also aims to provide a better trading experience with low swap fees and zero-price impact trades. In this article, we will dive deeper into the world of GMX to understand the positive impacts of this emerging crypto project.
A Brief Primer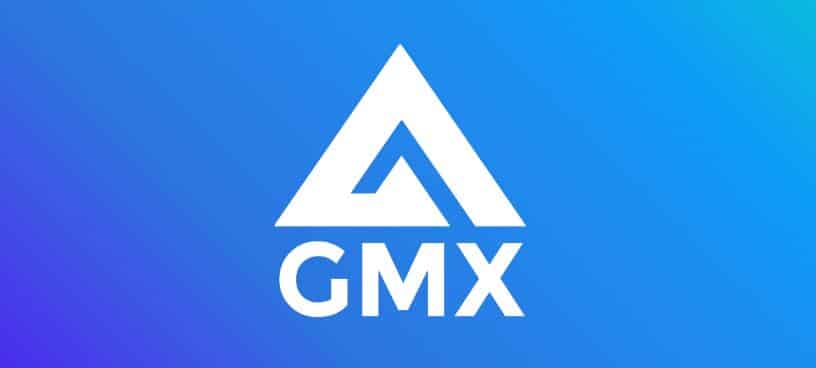 Launched in September 2021, GMX is a unique decentralized perpetual contract trading platform offering an extended leverage and a decentralized, multi-purpose liquidity pool. It was first built on Arbitrum one, an Ethereum Layer 2 solution and launched later on Avalanche blockchain. The platform's decentralized spot trading protocol allows investors to perform seamless cryptocurrency swaps from their personal wallets. However, its most popular product is a decentralized perpetual contract trading platform that allows perpetual contract traders to use up to 30X leverage on the GMX exchange.
What Makes GMX Unique?
Interestingly, unlike other decentralized exchanges (DEX), users on GMX can trade perpetuals. Perpetual contracts are a special form of futures contracts with no expiry period. It means a trader's position is valid for as long as they leave it open and maintain it. In GMX exchange, participants don't actually buy or sell any token but instead deposit collateral and can take long and short positions. At settlement, the profit is paid in USDC (for shorts) or the pair's other token (for longs).
Furthermore, the decentralized platform offers a reward system for traders and liquidity providers including low trading and swapping fees. Another feature that stands out is a community-owned and 'unionized' liquidity pool – the GLP pool. The GLP pool serves spot trading and perpetual contract trading facilities. Assets in the GLP pool are contributed by the community, like in the liquidity pool system on other decentralized exchanges.
GMX also uses Chailink's Decentralized Oracle Network (DON) to provide price feeds to the spot and perpetual contract trading protocols. The price feeds are optimized to provide accurate and timely price data, this prevents irregular changes in liquidation prices. It operates a dual token system where The GMX and GLP tokens are the native tokens of the GMX ecosystem. However, the GMX token is the Governance and main utility token of the GMX ecosystem.
GMX Becomes One of the Highest Grossing DEX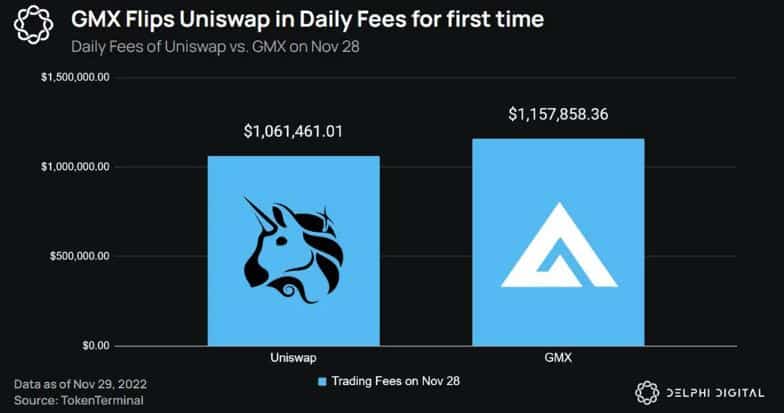 Decentralized exchanges have boomed after the spectacular fall of FTX. Uniswap, PancakeSwap, dYdX among others have garnered notable popularity in recent times. However, one name that has evolved to attract a huge traction is GMX. Earlier this year, GMX earned a whopping $1.15 million in trading fees, surpassing Uniswap's $1.06 million. According to data source, Token Terminal, GMX has earned nearly $15.7 million in trading fees in just four weeks, becoming the fifth-largest decentralized application, ahead of prominent players' including dYdX and AAVE.
One of the main reasons for GMX's outperformance probably is that the GMX token holders receive 30% of all the trading fees, while the UNI token holders do not receive a share in trading fees. In November, it had distributed nearly $4.7 million to the token holders in a time span of 30 days, which is the fourth-largest payout among all decentralized applications.
The crypto trading platform has recently achieved the top decentralized application (dApp) on Arbitrum by TVL and the leading perpetual exchange in decentralized finance (DeFi). As of December 2022, the total trading volume has exceeded $80 billion.

Why Choose GMX?
The GMX platform also has a staking program that offers token holders an opportunity to earn passive income through their tokens. Holders can stake their GMX tokens and earn interests of over 10% on Arbitrum one and Avalanche blockchain. 30% of the fees generated on the platform are used to reward stakers.
Moreover, its community-built tools include a Telegram positions bot, the gmx.house leaderboard, the gmxstats.com page, Dune Analytics Dashboards, and calculators that benefit traders, stakers, and liquidity providers. GMX has a growing list of collaborative projects building DeFi functionality with GMX's composable lego blocks.
An insightful thread about GMX, and how protocols like @UmamiFinance and @rage_trade build on our composable DeFi lego blocks. Thanks ByteTrade! https://t.co/VHjYYU0x7L

— GMX 🫐 (@GMX_IO) December 9, 2022
GMX's own decentralized autonomous organization (DAO), GMX DAO, planned its roadmap through its internal governance process. The vision of GMX is to become an even more complete and user-friendly DEX for on-chain leverage trading. It plans to further refine the user interface (UI) and user experience (UX) of the protocol for its users integrating TradingView charts into the platform. GMX also plans to roll out the exchange on a third blockchain network, alongside Arbitrum and Avalanche.
The exchange aims to create a more secure and reliable platform for its users including a more competitive service and attract more users to its platform. GMX believes that this move will contribute to the growth of the cryptocurrency market and increase the adoption of blockchain technology.