The cryptocurrency market was back in the red while the broader financial market tanked sharply as concerns regarding the possibilty that Federal Reserve may continue to hike intersest rates.
A Year of Doom and Gloom
2022 has proved to be a tumultuous year for the digital asset industry that has witnessed a considerable devaluation with Bitcoin (BTC) plunging from a peak of more than $68,000 to a meagre $17,000. The crypto space has been reeling under several macroeconomic challenges including rising inflation, consecutive rate hikes and geopolitical tensions for quite a long time now.
Moreover, setbacks such as FTX and Terra/Luna have added more fuel to the fire. Not only digital tokens but many crypto firms have succumbed to the ongoing crypto chaos. Several companies have either filed for bankruptcy or announced mass lay offs to navigate through the meltdown.
The macroeconomic factors have not only impacted the crypto sector but jolted the broader traditional markets, as well. The sudden shift towards a tighter monetary policy on a global scale dragged the stock market to unexpected lows while investors rotated away from sectors seen as particularly sensitive to interest rate hikes.
Crypto in Sync with Traditional Finance
This year, crypto investors have also been on a lower risk appetite as their fear levels seem to have exceeded thier expectations. It is mainly because the cryptocurrency market have largely mirrored the global stock markets. A selloff in the traditional market have always led to a contagion effect that would pull down crypto prices.
According to CoinMarketCap, the global crypto market cap is down almost 2 per cent in the last 24 hours, following a brief recovery. The global market cap continues to remain below $1 trillion at $851.88 billion, at the time of writing. Over the past 24 hours, the total crypto market volume shrank over 5 per cent to $35.96 billion.

In tandem with the falling crypto prices, the traditional market has also shed a substantial chunk of value. The Dow Jones Industrial Average fell 482.78 points and the S&P 500 slumped 1.79 per cent. Meanwhile, the Nasdaq Composite slid almost 1.93 per cent.
Several crypto experts have anticipated that the central bank will approve a 0.5 percentage point interest rate increase in December. It looks like concerns over an aggressive fight against inflation is likely to dent the sentiment for riskier assets further. The drop can also be attributed to a higher-than-expected Institute for Supply Management (ISM) November services raised investor concerns about the Federal Reserve's plan to raise interest rates in December.
BTC, ETH Fall But May Bounce in the Near Future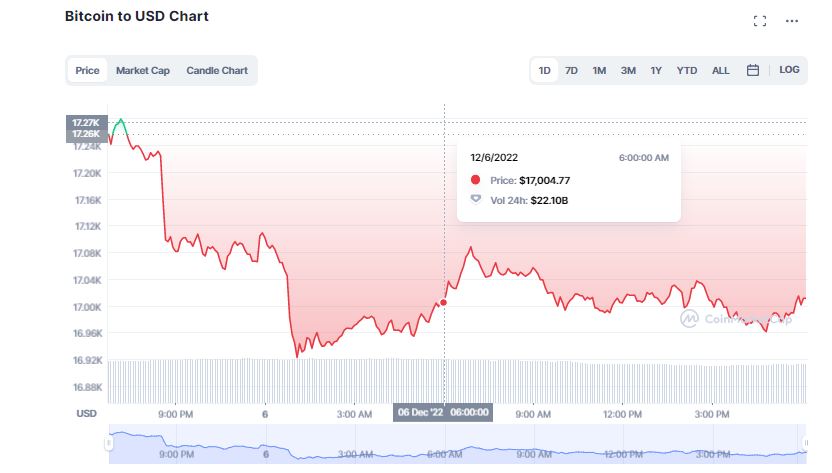 Bitcoin (BTC) plummeted more than 1.70 per cent lower in the last 24 to currently trade at $16,991. The flagship token has dipped below the psychological level of $17,000, once again. However, Bitcoin's dominance noted an upsurge of 0.03 per cent in the past day to 38.34 per cent. Michael van de Poppe, CEO and founder of Eight Global,  said that "BTC's daily timeframe gives mixed signals for now"  while expecting BTC price to shoot back. He added,
"BTC has made a sweep at the most recent low, removing liquidity. This is often a sign that a reversal is about to take place, which is what we are currently seeing play out."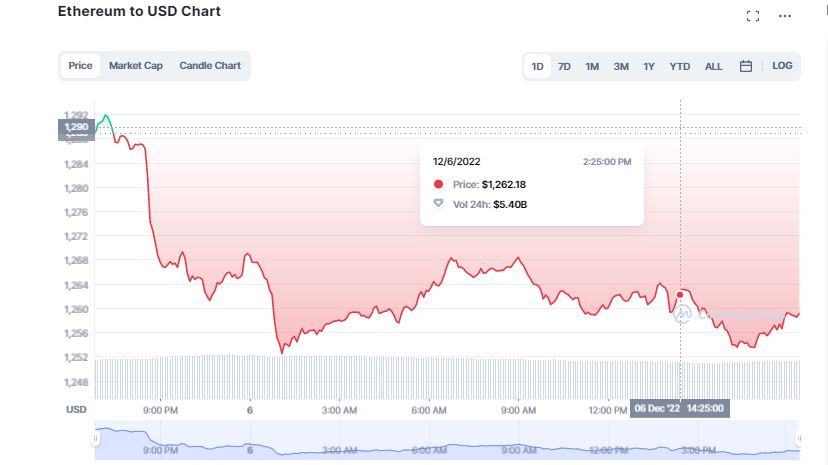 On the other hand, Ethereum (ETH) fell by 2.73 per cent in the last 24 hours to currently hover around $1,257. In his newsletter, Poppe wrote if ETH manages to break $1,300, it will undoubtedly trigger an impulse move up. He explained further,
"The price of Ether has already encountered heavy resistance several times. Currently, the price is at this level again, with the outlook being better this time." 
Other crypto prices' today performance also declined as Binance USD, Avalanche, Solana, Polygon, ApeCoin, Stellar, XRP, Cardano, Uniswap, Polkadot, Chainlink prices were trading with cuts over the last 24 hours. In the same time frame, memecoins such as Dogecoin (DOGE) and Shiba Inu (SHIB) are down 5.28 per cent and 4.58 per cent, respectively.
FTX Collapse has Dented Investor Confidence
Recently, Eric Robertsen, global head of research at Standard Chartered Bank argued,
"Yields plunge along with technology shares, and while the Bitcoin sell-off decelerates, the damage has been done. More and more crypto firms and exchanges find themselves with insufficient liquidity, leading to further bankruptcies and a collapse in investor confidence in digital assets."
Wes Hansen, director of trading and operations at crypto fund Arca, suggested the since Bitcoin (BTC) has not outperformed the downside in recent months, so investors no longer view it as a safe haven. He emphasized that the implosion of FTX have shaken the confidence of a lot of investors in this space. Hansen continued,
"In prior cycles, investors would move into BTC to protect the downside when the market fell off. But because of the size of this year's scandals and their far-reaching impacts, a lot of investors aren't moving to BTC because they're just leaving the space entirely."