The price of Bitcoin (BTC) is back to around this week's lows after bears reversed all gains posted mid-week following a favorable court ruling supporting Grayscale's arguments.
A look at the daily chart shows that losses of August 31 were steep and completely peeled back the impressive progress of August 29. Amid this formation, the draw-down is with comparatively lower trading volumes, hinting that buyers might, after all, stand a chance despite the unexpected drop.
Focus on a spot Bitcoin ETF
The broader cryptocurrency community is net bullish, expecting prices to recover in the weeks and months ahead. Top of the list is the probability of the United States Securities and Exchange Commission (SEC) approving the first spot Bitcoin exchange-traded fund (ETF). 
While the probability of this happening this year is slim, that commission could approve it, providing nice tailwinds for BTC. 
Bloomberg ETF analysts increased their probability of the SEC approving the derivatives product this year to 75%, up from 65%. However, the odds of such an event happening next year are much higher, at 65%.
On August 31, however, SEC filings shows that the agency postponed its ruling on six previous applications, including the one submitted by BlackRock. 
Market analysts remain bullish, pinning their hopes on BlackRock's impeccable records. Still, whether they will hack through the SEC's stiff opposition to the complex derivatives is yet to be seen. 
While the community analyzes the chance of a spot Bitcoin ETF, BlackRock has been actively accumulating shares of publicly listed BTC mining firms in the United States.
Bitcoin Price Analysis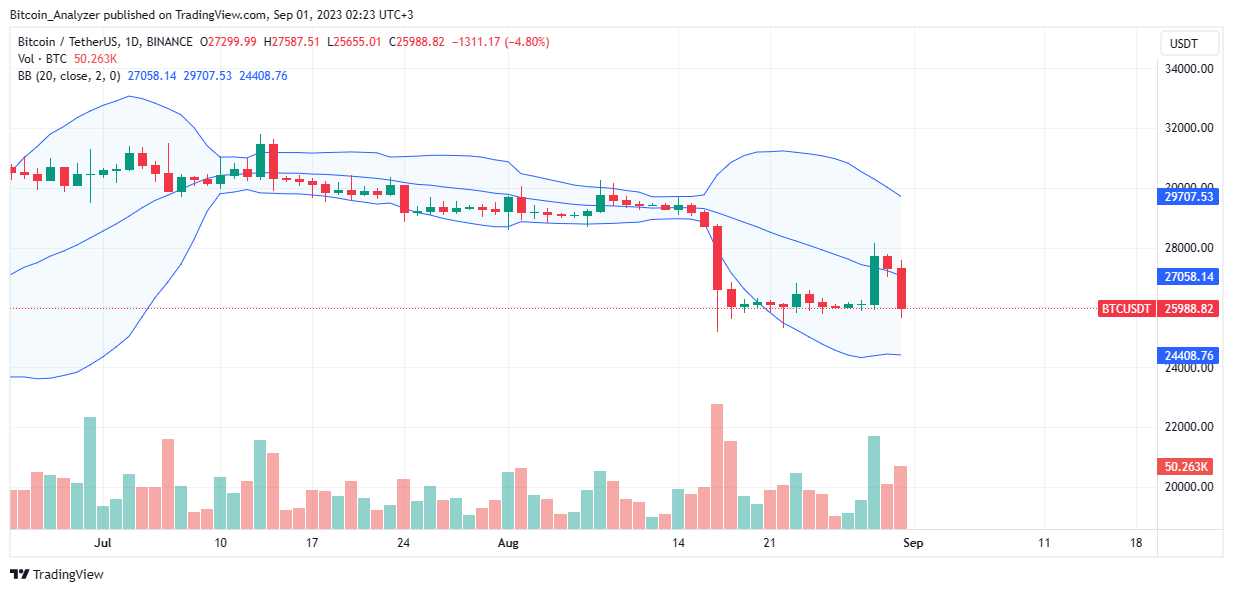 BTC prices are back to around June 2023 lows. 
The uptrend remains—from a top-down preview, looking at the formation from March to July 2023. The support zone between $24.8k and $25.8k is critical for BTC in the short to medium term.
As it is, Bitcoin remains under immense selling pressure since the coin's short-term trajectory is defined by the August 17 bear candlestick. A high-volume close above $29k, confirming gains of August 29, may mark the beginning of the next Bull Run, lifting BTC to $32k.
For now, traders can track how prices perform at $25.8k, aware that losses below this line effectively cancel the uptrend, swinging price action in favor of sellers. In this case, BTC prices will align with the losses of August 17, setting the ball rolling for a retest of $20k—or lower.
Technical charts courtesy of Trading View.
Disclaimer: The opinions expressed do not constitute investment advice. If you wish to make a purchase or investment we recommend that you always conduct your research.
---
If you found this article interesting, here you can find more Bitcoin News.