Bitcoin traders are watching from the sidelines, at least per the recent formation in the daily chart.
Even though the medium-term trend is bullish, prices have been consolidating inside a $1.5k zone with limits at $25k and $23.5k.
Notably, the immediate trend favors buyers as the coin is within the February 15 engulfing bar. As it is, traders have to wait until there is a clear trend in the short term.
The invalidation of the buy trend is if the drop below $23.5k and support is with rising volumes, indicating participation from sellers. This will likely accelerate the pace at which traders will take their profits, exiting their positions.
Hash Rate, Miners, and Whales
The drop in recent Bitcoin prices is at the back of rising hash rate and broad participation from infrastructure providers.
As an illustration, the hash rate is at record highs and will continue to rise as long as prices are increasing.
In the days ahead, traders should watch miner activities. There are indicators that some miners might have been selling to cover costs amid rising hash rate and difficulty.
However, even as miners appear to sell, there are signals that whales, that is, addresses with over 1,000 BTC, are also exiting, liquidating at a loss. This is an unexpected trend because, often, in bear markets, whales tend to accumulate, buying on dips.
On-chain data reveals that most whales are selling at a loss after buying prematurely when BTC was changing hands at around $25k.
Bitcoin Price Analysis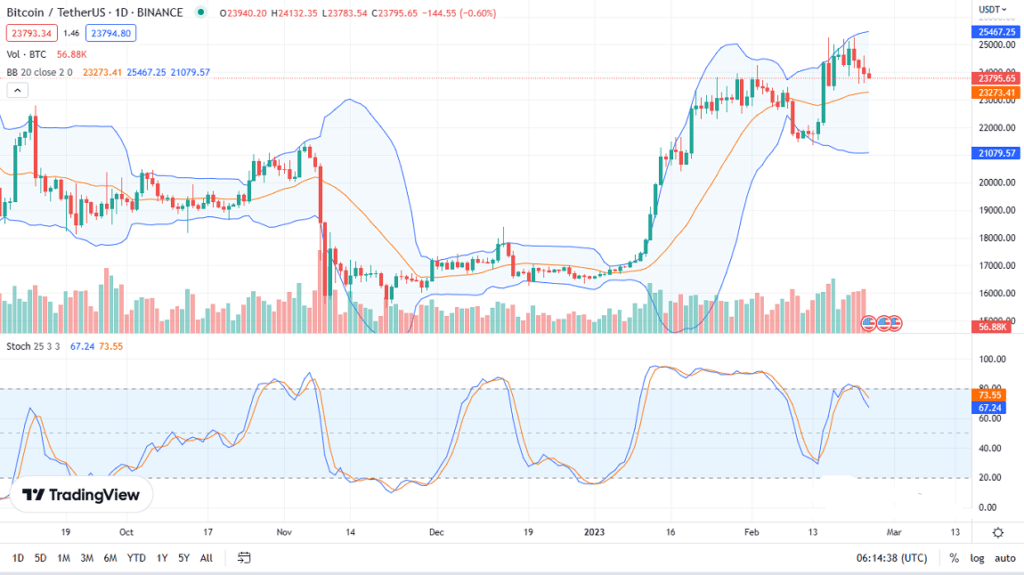 Considering the state of Bitcoin, traders may have to wait for a clear trend definition. A high volume, wide-ranging breakout lifting BTC back above $25k would likely see buyers flow back. In that case, the coin may rally to $28.5k in a welcomed bullish trend continuation pattern.
Conversely, losses below immediate support and the middle BB may see more sellers in the equation, forcing the coin towards $21.5k in a retest.
Technical charts courtesy of 
Trading View.
Disclaimer: 
Opinions expressed are not investment advice. Do your research
.
---
If you found this article interesting, here you can find more  Bitcoin news.