Ethereum prices are up 24 percent from November lows. However, the upside could be better.
Notably, the coin has failed to breach the immediate resistance line, and the path of least resistance remains southwards.
The great "sell wall" of Ethereum is at $1.35k, a critical level that also marks November 9 high. As such, the bearish bar of November 9 still shapes the current trajectory.
Accordingly, bulls must strive to pump ETH above $1.35k, placing the coin in a superior position. If not, ETH will remain bearish from an effort versus result perspective and top-down preview, a heavy load for bulls to bear.
Ethereum Fairs Better Than Competitors
The silver lining for Ethereum holders remains to be the resilience over the past few trading weeks. ETH prices have shot higher in December as bulls started the month strongly. There are a couple of factors behind this revival.
Ethereum is a solid platform benefiting from network efforts. The collapse of FTX and Alameda Research saw competing "Ethereum killers" shaken to the core. Solana, specifically, is yet to recover.
Thus far, there are reports of projects searching for alternatives beyond Solana. This negative development will harm Solana's reputation and impact SOL prices.
Moreover, although ETH dropped this year, losses haven't been profound like in competing platforms. These "4th generation layer-1s" boast better throughput, thus, scalability.
Ethereum Price Analysis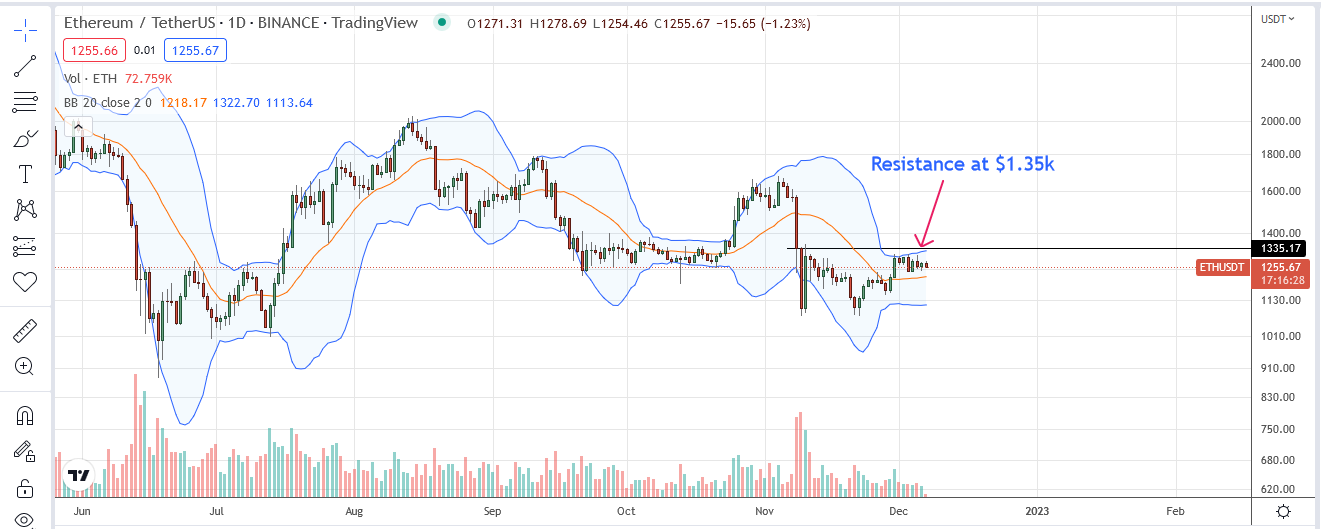 From the daily chart, there are lower lows relative to the upper BB. The result is a bull flag as prices trend lower with relatively low participation levels. Since ETH prices are within the November 30 bull bar, there could be hope for traders. While ETH is higher, aggressive sellers can liquidate the coin, expecting bears of early November to flow back and diffuse the current bullish momentum.
On the bright side, there could be hope if ETH prices edge above $1.35k, posting new December highs to confirm the November 30 bullish engulfing bar. In that case, ETH will diffuse the selling pressure of early November. Also, bulls will likely form a foundation for a leg up back to $1.5k and alter $2k in a refreshing recovery.
Before then, the primary trend remains southwards. As such, risk-off sellers can sell every attempt higher below $1.35k. Meanwhile, conservative traders can look for a clear break above $1.35k before committing.
Technical charts courtesy of Trading View
Disclaimer: Opinions expressed are not investment advice. Do your research.
---
If you found this article interesting, here you can find more Ethereum News.