On September 7, the Swedish capital for the first time will host a large conference dedicated to blockchain technology and cryptography – Blockchain & Bitcoin Conference Stockholm.
The event is part of Blockchain & Bitcoin Conference, which is the first and largest cryptography conference network in Europe. Its organizer is Smile-Expo which holds similar events in the Czech Republic, Estonia, Russia and Ukraine.
Key issues include the implementation of blockchain technology in business, legal regulation of cryptomonedas, raising the standard of living using new technologies, and the development of smart contracts in the decentralized economy.
Particular attention will be given to the development of block chains in FinTech. Participants will analyze existing projects in the banking sector based on block chains; With panels of analysis and discussions.
In the autumn of 2016, the Swedish Central Bank announced plans for the development of a national digital currency. These plans can be implemented in two years. Swedes use traditional money more rarely; Since 2009 the number of coins and cash in Sweden has dropped by 40 percent.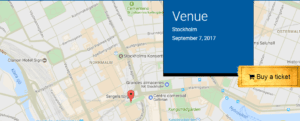 The development of the block chain in the country is supported by the government; In 2016, there was an experiment on the transfer of land ownership records in digital format. The project involved blockchain-based technology with smart contracts.
In addition, Nasdaq Stockholm issued Bitcoin Tracker, an asset that received a certificate from the government's financial regulator and was accepted for negotiation.
This June the Swedish project on the implementation of block chains in the energy sector was launched, through the government corporation Vattenfall, along with 20 European companies, who started the development of a block platform for the electricity trade.
These and other blockchain projects will be discussed by Blockchain & Bitcoin Conference participants. Along with the conference, there will be an exhibition of hardware, software and cryptographic services for the industry.
Get more information on the Blockchain & Bitcoin Conference Stockholm website.