PancakeSwap (CAKE) was among the most sought-after altcoins in the boom of the crypto market in 2021. The major point in favor of the token was its highly rewarding staking mechanism, as it pulled many investors and traders toward the coin. However, the coin has been struggling majorly in the bearish phase of the market.
In the past week, the PancakeSwap token saw a complete bloodbath, as it lost around 25% of its value. The price fell from around $3.45 to a low of under $2.60 within a week. At the time of writing, the coin is trading at $2.59 with a market cap of below $508 million and a 24-hour trading volume of under $77 million. The underwhelming performance of the token has pushed it to number 85 on the list of top cryptocurrencies by market cap.

PancakeSwap DAO Votes on a Controversial Proposal
The significant downtrend of the coin was triggered by the latest proposal to control the inflation rate. The core team of the network launched a community vote to take the token toward a deflationary model. As per the version 2.5 tokenomics proposal, the rewards paid to traders and stakers would be cut down by more than 68%.
As a result, the CAKE emissions on the main liquidity pool of the network would be minimized by about 94%. In the vote, about 70% of the members voted in favor of an aggressive reduction of staking rewards. However, about 10.41% of voters have voted for gradual reduction while only 19.52% of voters went against the entire proposal. The voting will end at 15:30 UTC on April 28.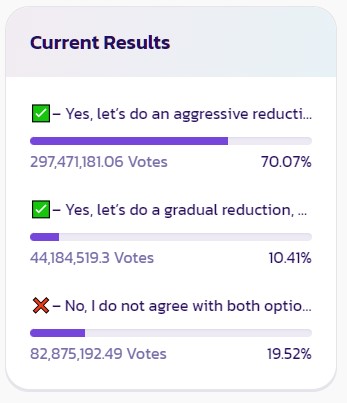 As per the proposal, the CAKE emissions will come down from 6.65 tokens per block to only 3 tokens per block with immediate effect. A further 0.5 token per block reduction will be carried out for the next five months to bring rewards to just 0.35 tokens per block.
Potential Long-Term Benefits of the Proposal
The high inflation rate of CAKE tokens and their emission rate was a concern among the network's community. However, this proposal is set to have a strong impact on the token's market performance. The network believes this proposal will help long-term holders to attain more benefits.
PancakeSwap stated,
"Current inflation rates are unsustainable for CAKE over the long term, and reductions are required for the long-term health of PancakeSwap."
The immediate effect of the proposal does not paint a healthy picture for the token. However, it is believed that it will help the network in the longer run. The network could experience a high sell-off in the coming days. Currently, its staking amount has come down to below 678 million CAKE tokens which are significantly lower than the staked amount from last week.