The growth of blockchain technology in terms of its applications would soon take social networks. With this clear idea the Swiss startup Mavin will use blockchain technology to tokenize and revolutionize the way brands and agencies connect, incentivate and reward social media nano influencers for spreading content through their social networking profiles. Mavin will launch its ICO on November 21, 2017.
Through the marketing power of micro and nano influencers in single-campaign entities, Mavin outperforms the traditional advertising market through significantly higher ROI and participation rates. At the same time, it reduces management costs and advertising costs through blockchain technology, smart contracts and microtransactions. With this is configured a novel and quite safe platform.
All transactions will be handled through Mavin MVN tokens, the internal currency of the platform that drives the payment, reward and verification system. Using blockchain technology allows micropayments to be 10 times cheaper than traditional micropayments, allowing instant payments to influential people and giving Mavin the edge over competitors.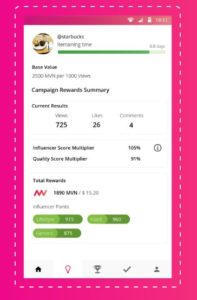 The Mavin platform builds a bridge between vendors, agencies, brands and influential people. Together, they combine to create a market of several hundred million dollars. The decline of traditional television and the growth of social networks have led to influential marketing, now one of the fastest growing advertising categories, which is predicted to be a $ 5 billion to $ 10 billion market for 2020.
Mavin's quality assurance framework is based on two main pillars. A first-level verification is performed by artificial intelligence algorithms that recognize and evaluate the accuracy of the image and the feeling of public comments. Similar but more detailed inspections are performed by human platforms verifiers. This quality verification process results in an individual and highly accurate rating of each mention in the social networks that will end up in a quality verification score in accordance with this evaluation.
Based on the results of the quality check, Mavin's reward and score model combines the final reward awarded by a specific mention on social networks with the influencers profile score. All influencers should refine their personal platform profile to increase profitability within their fields of activity. Only a well-qualified quality check in combination with an objective-oriented influence profile will lead to an optimal remuneration of the influencers.
Daniel Jazbec, one of the four co-founders and CEO of Mavin, is sure that the platform will affect the Influencers market. He considers that Mavin differs from other influential marketing platforms in that its user base is bottom up, starting from very small nano influencers. Mavin is based on a blockchain application with a self-sustaining quality verification framework.
The Token MVN will have a referential value of 1 ETH = 30'000 MVN
MVN tokens are created based on the Ethereum blockchain technology, ERC20 standard.
For more details about the project, you can review their White paper.